Archives Search
Warning: Descriptive record is in process. These materials may not yet be available for consultation.
Description found in Archives
Laura A. Gamble fonds [textual record, graphic material].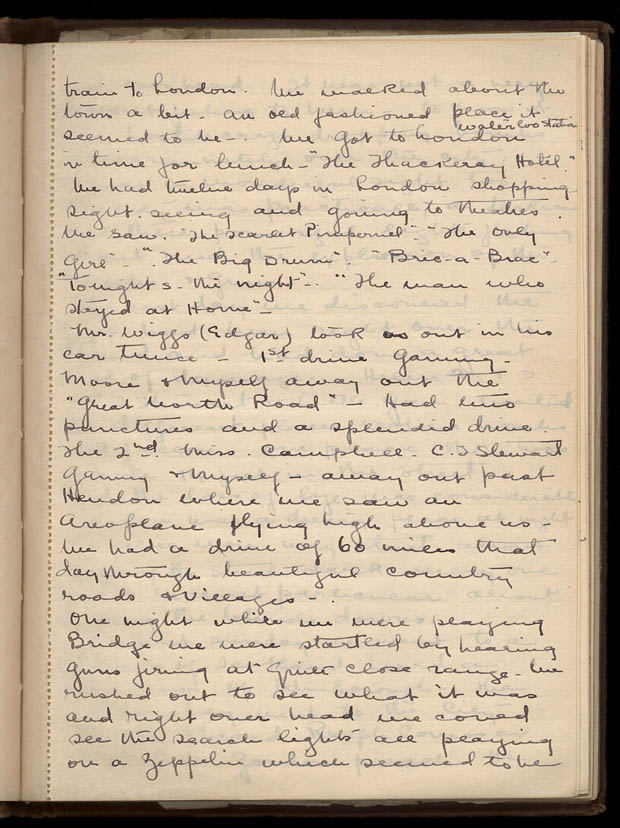 Online MIKAN no. 98246 (5 items)
No place, unknown, or undetermined
2.5 cm of textual records.
3 photographs.

Fonds consists of a diary kept by Laura Gamble during her career as a nursing sister in which she describes mostly the social side of life, such as tours in the countryside, parties, etc. There is some comparison of Canadian nurses and British nurses, description of hospitals and shift work, and some mention of bombing in London and Greece. Also included are copies of her obituary. The fonds also contains 3 photographs of the Prince inspecting the wounded at St. Andrews Hospital, Toronto (1919).
Former archival reference no.
Biography / Administrative history
Laura Adelaide Gamble was born in Wakefield Quebec on 4 September 1887 and graduated from the School of Nursing, Toronto General Hospital in 1910. After practicing as a private nurse, she enlisted as a nursing sister in the Canadian Army Medical Corps on 7 April 1915 in Toronto. She served in England, France, aboard a medical ship in the Mediterranean, in Malta, and in Salonica, Greece. She was awarded the Victory Medal in 1920, for her distinguished service during World War I.

After the war Gamble took public health courses at the University of Toronto and then joined the Toronto Department of Public Health, becoming an acting District Superintendent. In 1924 she was appointed Director of the Bureau of Nursing for the Cattaraugus County (NY) Rural Health Demonstration. In 1930-31 she took public health nursing courses at Columbia University. Returning to Toronto, she did a study on the need for convalescent care in Toronto. Gamble was Superintendent of the Hillcrest Convalescent Home until her death on 21 March 1939. Gamble was secretary of the of the Nursing Section of the Canadian Public Health Association and on the Editorial Board of the "Canadian Public Health Journal". She had been president of the Toronto General Hospital Alumnae Association, the Overseas Nursing Sisters Association of Canada and the Community Health Association of Toronto.
The papers were donated by Mrs. J.F. Beauvais of Belleville, Ont., a relative of Laura Gamble.

Availability of other formats note
Digital copies of four consectuive pages of the diary of Laura Gamble, 1915-1916, are available.
1. Nurses - England, 1915-1921, 1939 Laura Gamble, 1915-1921, 1939.
2. Military nursing - England, 1915-1921, 1939 St. Andrew's Hospital (Toronto, Ont.), 1919.
3. Nurses - Canada, 1915-1921, 1939.
4. Nursing - Greece, 1915-1921, 1939.
5. Military nursing - Greece, 1915-1921, 1939.
Date modified: