Recherche de fonds d'archives
Description trouvée dans les archives
Sir John A. Macdonald funerary medal [object].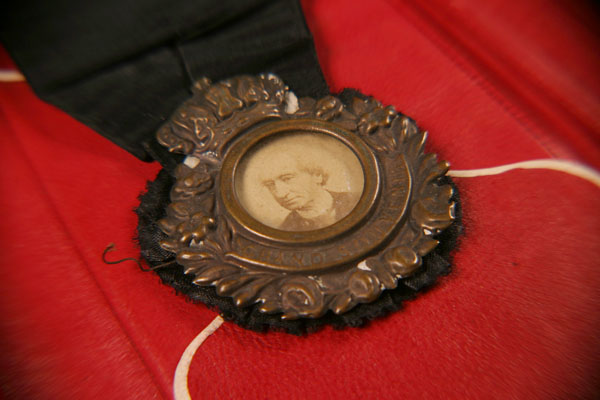 En ligne No MIKAN 212433 (3 items)
1 medal: tombac, circular shaped surmounted with royal crown, suspension wearing mode, encased; 4.5 x 5.5 cm (medal); 5.3 x 15.0 cm (medal & ribbon).

Item is a die/machine stamped, circular shaped, copper alloy (i.e. tombac) medal enclosing a miniature, head and shoulders, albumen photographic image of Canada's first Prime Minister, Sir John A. Macdonald. The photographic image is contained by a wreath of heraldic flowers and the inscription "GRAND SOUVENIR" - all of which are surmounted by a royal (i.e. Tudor) crown. The medal was attached to a black ribbon which originally held a fastening device (now lost) by which the medal was worn. The medal, housed in a red leather pouch, was a specially prepared memento created immediately following the death of Sir John A. Macdonald on 6 June 1891, and this example presented to Samuel Rollin Hesson M.P., either in Ottawa on 9 June 1891, the date of Macdonald's lying in state, or in Kingston on 11 June 1891, the date of Macdonald's funeral.
Objet
90: Ouvert
To be viewed with the assistance of an a
rchivist.
Volume
21 No de pièce attribué par BAC 18

90: Ouvert
No de référence archivistique
Credit: Library and Archives Canada, Arch. Ref. R10892-18, e008072648
Copyright: expired
Restrictions on use: nil
Information additionnelle
This record replaces MINISIS record number ICON203932.

Note sur le classement
The item has been segregated from other records and is located in its own file.

Note sur les expositions
Exhibition title: Double Take: Portraits of Intriguing Canadians / Volte-face: Portraits de Canadiens fascinants. Curator: Caroline Cook. Library and Archives Canada Exhibition. Confederation Centre Art Gallery. Charlottetown, Prince Edward Island; 2012.03.31 -2012.09.03. Further venue: McMichael Canadian Art Collection, Kleinburg, Ontario; 2012.09.22 – 2013.02.24 Further venue: Canadian Museum of Civilization, Gatineau, Quebec; 2013.03.21 – 2013.10.14

Signatures et inscriptions
Inscribed. Inscription: obverse: GRAND SOUVENIR Inscription: reverse: no inscription Inscription: edge: no inscription Inscription: attachment: no attachement
1. Macdonald, John A. (John Alexander), 1815-1891.
2. Prime ministers Canada.
Date de modification :