Archived Content
This archived Web page remains online for reference, research or recordkeeping purposes. This page will not be altered or updated. Web pages that are archived on the Internet are not subject to the Government of Canada Web Standards. As per the Communications Policy of the Government of Canada, you can request alternate formats of this page on the Contact Us page.
Minority designs unfurled
Some thirty boxes of flag designs and related correspondence are found in the records of the Secretary of State at the National Archives. They consist of many extremely interesting ideas for a Canadian flag. Moreover, the letters explaining the significance of particular designs help to gauge the mood of ordinary Canadians during the time of the flag debate. The submissions range from crude drawings to truly artistic creations. Some designs religiously follow heraldic principles; others range from the ridiculous to the complex. On occasion, one is confused over how a particular design represents Canada. For example, one design has the pawnbrokers' symbols on it; another, a dollar sign; and a third, the skull and crossbones. Furthermore, a few designs include patriotic slogans that really have no place on flags.
The most common designs appear to be those containing a single maple leaf, those featuring three or more maple leaves, those with the Red Ensign and /or the Union Jack and those containing the fleur-de-lys.
The theme of several other designs suggests that Canada is still a vast wilderness of lakes, forests and mountains inhabited by an abundance of wildlife. This is reflected in designs featuring Canada geese, salmon, beavers, bison, polar bears, grizzly bears, caribou and moose. Of these creatures, the industrious beaver is everywhere busily gnawing away. In one design, a beaver is wearing a mountie's hat; in another, a large beaver, surrounded by ten smaller ones, is meant to represent Canada and its provinces.
Because of Canada's Christian heritage, a number of people wanted religious symbols, such as the cross, in the flag design. Some went further suggesting Jesus, St. Joseph, or the "Sacred Heart" be included. One rather bizzare design, which came from "Jacy of Chickadee Land," is described as: "Twelve praying, friendly, helpful hands all connected to one big blue heart and from it fed truth and love on a background of heavenly blue."
Celestial objects, usually represented by northern lights or by stars, were also popular. Designs with horizontal or perpendicular bars, as well as stars on them, often resemble the American flag.
Two more designs have native symbols on them. In the first one, an Indian chief wears a head-dress with ten feathers on it, one for each of the provinces. If necessary, more feathers may be added, but the Saskatchewan designer cautions: "Let us hope that none will be taken out, ever." The second, one of the few to include symbols of both aboriginal groups, has a peace pipe on it to represent the Indians, and an ookpik (an Arctic owl) to represent the Inuit and a maple leaf to represent the rest of Canadians.
The so-called "Society for the Suppression of Blue Lines" of Toronto sent in a rather frivolous design showing "crossed red hockey sticks rampant." Its purpose was to mock the vertical blue bars adorning "Pearson's Pennant."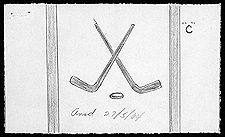 It is obvious from all the controversy generated that Prime Minister Pearson really started something by promoting a maple leaf design. It got everyone into the act, including parliamentarians, the press, organizations and the public at large. It was an issue that touched all Canadians. But, after all the debate, we got what we wanted - a national flag that is distinctively Canadian, and one we can call our own.
This text was written by James M. Whalen and first published in The Archivist, Magazine of the National Archives of Canada, in 1990.