Archived Content
This archived Web page remains online for reference, research or recordkeeping purposes. This page will not be altered or updated. Web pages that are archived on the Internet are not subject to the Government of Canada Web Standards. As per the Communications Policy of the Government of Canada, you can request alternate formats of this page on the Contact Us page.
Poultry house design affects egg production
The Dominion Experimental Farms also introduced and popularized certain buildings. For example, they launched an aggressive campaign to get farmers to look seriously at the benefits of keeping a flock of fowl. Proper shelter and good feed for fowl had been almost totally disregarded, but by the 1910s high market prices for newly-laid eggs and high-class fowl had made poultry-keeping very profitable. Originally a poultry house was a tightly-closed, heated structure without proper ventilation. This type of building was replaced in 1907 by the cheap and functional cotton-front poultry house (also known as the utility poultry house or the open front laying house), with a front of cotton, glass and wood, the proportions of which were determined by climatic conditions. Built frequently in two separate sections, the front was used in spring for brooding chicks, while the rear was used for breeding; in the winter the entire structure was used for brooding. As the farmers prospered, the cotton front poultry house was replaced by a better-constructed poultry house with artificial heat and automatic ventilation.
Designing for efficiency and economy
Throughout the First World War, new buildings were designed and old ones were tested for suitability for various livestock. Low construction cost, utility, proper sanitary conditions and adequate ventilation were the most important features sought after in these structures. Equipment integral to these structures and necessary for raising livestock, such as stall fittings, water devices, flooring materials, troughs and self-feeders were tested, and plans were made available to farmers. It was found that a cheap open-front shed with a corral was well suited for feeding steer and for sheltering growing colts and idle horses throughout the winter. Inexpensive cabins and sheds were also adequate for sheep and some classes of swine. In general, pigs required only a simple, dry shelter for the winter months, supplied with bedding and properly ventilated. The benefit from following these recommendations was a low overhead that considerably cut the cost of raising livestock, a benefit that was passed on to the consumer.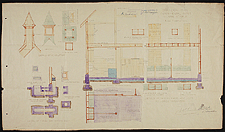 Proper ventilation for farm animals was essential. Department of Public Works, 1917.
NMC-045753
The Dominion Experimental Farms also conducted extensive testing and design changes of the barn, one of the main buildings on a farm. The traditional square timber frame barn was replaced by a plank frame barn, characterized by the hip-roof, which provided better use of space since no posts would interfere with the movement of animals, implements and workers. Because no mortises or tenons were required, less lumber and time was needed for construction of this barn.
The silo, preferably located at the south end of a barn, also received attention. Preservation of silage for animal feed was of paramount importance. The Farms stressed that a silo should be strong and air tight, with smooth walls to allow silage to settle. The silo chute should adjoin the feed room.
Practical farm layout
Farm layout was as important as building design, and in 1915 the Farms began renting farm properties, principally for soil testing, crop suitability and livestock production, but also to illustrate good building design and farm layout. The arrangement of buildings and the use of shelter belts, hedges, flower beds and lawns demonstrated to farmers both the aesthetical and the practical benefits of properly planning, arranging and selecting landscape materials and structures for their farms.
The National Archives holds several hundred plans for buildings, implements and farm layout created by the Dominion Experimental Farms for their own use or for use by Canadian farmers. These documents are available for consultation upon request.