Archived Content
This archived Web page remains online for reference, research or recordkeeping purposes. This page will not be altered or updated. Web pages that are archived on the Internet are not subject to the Government of Canada Web Standards. As per the Communications Policy of the Government of Canada, you can request alternate formats of this page on the Contact Us page.
. . . and the people
With the West peaceful, empty of roaming Indians, surveyed and connected by a railway, Interior's focus changed by the early 1890s to filling the prairies. The Immigration Branch, which had been part of the Department of Agriculture from before Confederation, was thus transferred to Interior in 1893. Here again the history of the record offers instructive insights. The Department of Agriculture had not been a total failure in attracting immigrants to the West: groups of Icelanders, Jews and Mennonites had settled in the 1870s, and a steady trickle of individual immigrants as well. Yet Agriculture was not equipped in a bureaucratic sense to cope with a huge systematic program of immigration. Until the early 1890s, it did not use subject files, but rather individual dockets for incoming correspondence and separate outgoing letterbooks to maintain its information over a wide range of distinct programs -- immigration, agriculture, census, public health, archives exhibitions, etc. Information on these programs was all scrambled together, indexed by surname rather than by subject, and indexed only on an annual basis rather than cumulatively over the years. These factors made efficient administration very difficult. The expansion of government and new approaches for office organization made many organizations near the end of the century abandon the cumbersome docket-letterbook system in favour of modern registry subject files that, by keeping incoming and outgoing correspondence on a specific subject over many years on a single file, permitted headquarters and field staff to respond to, follow up and modify initiatives efficiently and effectively. The Immigration Branch immediately adopted such a system after moving to Interior in 1893, thus facilitating the immigration boom launched by Sifton a few years later.
The resources . . .
As the West began to fill with settlers, the exploitation of its resources aside from agricultural land increased accordingly. Various branches in Interior were created to handle such diverse functions as receiving applications, issuing leases, collecting rents and royalties, conducting inspections and levying fines for timber, mining, water power, grazing, and so on. Other branches were more concerned with scientific research into resource questions. Forestry evolved, for example, from early concerns over tree wind-breaks on the prairies to sophisticated studies of silviculture through a system of forest reserves; National Parks grew from its base in the western Rockies as a tourist appendage to the railway, to dedicated conservator of ecosystems, threatened wildlife, and historic sites; Water Power similarly changed from worrying over diverting streams and settlers' dams to work in water conservation and dryland reclamation through irrigation.
The records of Interior demonstrate an evolution from preparing the West for settlement (the Police, Indian reserves, surveys) to filling it (immigration) to tapping its richness (the many natural resources units). The records reveal too in their organization, evolution, emphases and contemporary use the change from a passive, regulatory approach towards leasing and monitoring land and natural resources to an active, interventionist stance of marshalling the nation's natural wealth.
From 1870 to 1930, Interior was not, of course, the only federal agency active in the West, nor do its records tell the full story of western development under federal aegis. Yet for scale and focus, the Department of the Interior towers above the rest. It built the frame, mounted the picture inside, added the detail and colour, and hung it completed on the national wall in 1930. No region in Canadian history, except the Canadian North since 1945, has been so extensively subjected to active federal government control of so many aspects of its life. The Department of the Interior in many ways, especially in the early years, performed functions by itself now carried out by all three levels of government. The records generated by this process offer a unique opportunity to study a society in detail and depth. Unfortunately, however, the records quite naturally have the same complexity as the organization that created them.
An archival maze
Each of the many branches and agencies of the Department of the Interior noted above had several internal divisions of its own. Some branches were big enough to become separate departments. Most were in a regular state of flux, existing in and then emerging from the general administrative core of Interior, merging with other branches, splitting apart again, shifting to and from other parent departments besides Interior, widening in most cases but sometimes narrowing their legal functions and mandates, still others coexisting in strange alliances (western petroleum fell under northern administration for a time; national parks were bedfellows with irrigation), and all developing varying degrees of field office activity in the West, sometimes independently, sometimes through the local agents of another branch if circumstances failed to warrant separate agents.
All these shifts naturally affected the records created by these units. Files are brought forward from one branch to another, with new titles and numbers, and file jackets belonging to new registry systems erasing or covering up old ones; other files are left behind in parent or predecessor branches where they became buried among dissimilar material; still others were part of general administrative series. To further complicate the records picture, when Interior was abolished in 1936, its records for those functions and branches continuing under federal aegis, such as Forestry, National Parks, Water Resources, Immigration, Surveys, Indian Affairs, Northern Administration, and so on, were carried forward to new parent departments, and to new branches and sub-units within them, all of which continued the Interior pattern of shifting, merging and splitting functions and organizational units -- and the records of those units. Just the direct linear descendants of Interior as a "parent" department include Mines and Resources; Resources and Development; Mines and Technical Surveys; Northern Affairs and National Resources; Energy, Mines and Resources; Indian and Northern Affairs; and Environment. Each of these subsequent organizations would have records created by or under Interior among its own or its archival holdings. To make matters even more complicated, the acts of 1930, transferring to the western provinces control over their own land and resources, provided that the records relating to the active administration of those resources also be transferred to provincial control. In reality, this meant that almost all local records of Interior created and maintained in Western Canada by the Department's multitude of agents became provincial property in 1930, winding up in numerous series of numerous resource departments in each of the three prairie provinces and in some cases still later in provincial archives. In addition, many hundreds of boxes of headquarters' records of Interior relating to issues still active in 1930 were turned over to the provinces -- thus explaining why the National Archives' holdings of some series of Interior records are very thin for the 1920s and 1930s.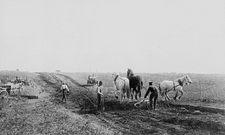 This almost bewildering complexity within Interior itself, among and within its many branches, between numerous successor federal departments and provincial holdings, and across changing functions, mandates and bureaucratic practices graphically underlines why archivists must study the history of the records in their care. In the first place, archivists simply need to locate all the records, re-create (on paper) their provenance with their original parent body, describe its original functions and internal organization, and convey this crucial sense of context to researchers -- a task that for Interior has only just begun. The interconnections and interrelationships uncovered by this process between administrative functions and between various files, series, record groups and repositories are not self-evident, but rather must be researched and described in detail.
If archivists accept these challenges and actively undertake the history of the record, then researchers will be able to push the history of the Canadian West in new and exciting directions in the next generation.