Archived Content
This archived Web page remains online for reference, research or recordkeeping purposes. This page will not be altered or updated. Web pages that are archived on the Internet are not subject to the Government of Canada Web Standards. As per the Communications Policy of the Government of Canada, you can request alternate formats of this page on the Contact Us page.
What Was School Life Like?
What Were the Schools Like?
What Were the Schools Like?
The one-room schoolhouse was often a source of pride for the community who had built it. It was also the centre of community activities, meetings, dances, and social gatherings. The early schoolhouses, built with either wood, stone or brick, were often poorly heated and ventilated. Good lighting was also a problem. Some schools had very little in the way of equipment, such as blackboards, maps, globes and textbooks. With time, the government passed school acts to ensure the improvement of school accommodation for all students.
Source
Teacher and students, Muskoka Lakes, Ontario, 1887
Source
School children, Ottawa, Ontario, 1898 
Source
Adults and children, vicinity of Midland, Ontario, ca. 1890-1915
I Remember . . .
Maisie Emery Cook was a student in Leduc, Alberta. She remembers when the first school was built:
"In 1900 when there were six school-age children in the area, a school district was formed. Logs were hauled in and a small building was erected, and that fall a high school student from Edmonton was installed as teacher [the school year lasted just three months]. . . . In 1901 we had a four month term and also in 1902, each with a different teacher."
Maisie Emery Cook, Memories of a Pioneer Schoolteacher (Edmonton: The Author, 1968), pp. 2-3.
After years of various models of pot-bellied stoves, the most popular stove used in one-room schoolhouses became the Waterman-Waterbury Heater, manufactured by the Waterman-Waterbury Company of Minneapolis, Minnesota, in the United States with Canadian West headquarters in Regina, Saskatchewan. This massive stove was usually placed in a back corner of the schoolroom and connected to the chimney by a length of overhead eight-inch stovepipes. The theory being that the longer the pipe the more heating surface there was to heat the room.
I Remember . . .
"A boy from down the road had the job of cleaning out the stove and lighting it. I think he got 25 cents cash. A quarter in those days was a lot. It could be more than his father had in his pocket at any one time. Usually the boy got the fire going and the first hour might be cold, but you pack 30 or 40 kids in nine grades into one of those little schools and they warm up pretty soon."
Barry Broadfoot, The Pioneer Years, 1895-1914: Memories of Settlers Who Opened the West (Don Mills, Ont.: PaperJacks, 1978), p. 285.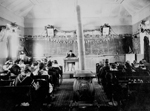 Source
J.L. MacDonald, teacher, and students, School District #3, Glenelg, Ontario, 1910
Source
Teacher and students, county school, Saskatchewan, ca. 1920
On Blackboards
Blackboards were considered an essential part of any schoolroom. They provided a place for both the teacher and the students to write and work out math and grammar exercises. Some blackboards were made from slate. Others were made by painting a wooden board. The wood boards had their drawbacks. "The objections to the wooden surface are, that it is liable to warp and crack, is costly, and requires to be painted very frequently."
J. George Hodgins, The School House, Its Architecture, External and Internal Arrangements: With Additional Papers on Gymnastics, the Use of Apparatus, School Discipline, Methods of Teaching . . . (Toronto: Lovell and Gibson, 1857), p. 81.
The Inspector
Schools, teachers and students were evaluated by the inspector on his annual visit. Inspectors reported on the school's attendance record, the teacher's teaching skills and the condition of the schoolhouse, including recommendations for improvements.
Source
The School House, its Architecture, External and Internal Arrangements. Toronto: 1857, p.84.
I Remember . . .
"Mr. Best traveled the prairie trails in all sorts of weather, covering an area of a hundred by sixty miles [161 kilometres by 97 kilometres], and nothing was hidden from his eyes, after he had spent half a day in a school, but any teacher who was sincerely trying to bring the pupils along need have no fears. Unlike many inspectors, Mr. Best was a great teacher, and took full charge of the classes . . . He carried copies of The Popular Educator and the Ontario School Journal with him, and always had some new books to recommend."
Nellie McClung, Clearing in the West: My Own Story (Toronto: Thomas Allen, 1935), p. 373.
City Schools
Canadian cities were more densely populated than rural areas and therefore had more school-aged children. With more students to send to school, bigger schools were needed. Larger schools with many classrooms allowed for graded classes, better school equipment and more subjects to be taught. City schools often had more sophisticated playgrounds as well.
Source
Pembroke Separate School (now Cathedral School), Pembroke, Ontario, 1905
Source
Public School, Vancouver, B.C., before 1923
Source
Adults and children, Ottawa East, September 1898
Residential/Industrial Schools
According to the agreements contained in Indian treaties, the federal government was responsible for educating Aboriginal students. This resulted in the creation of residential schools, which separated First Nations children from their parents. Students were forced to live at these schools and were not allowed to speak their native language or dress according to their cultural traditions. It was hoped that the training they received would prepare the students for assimilation into Canadian society. While many of the children did receive such an education, the abuses that were often a part of these schools are now well documented. First Nations students were also placed in government-run industrial schools. Both industrial and residential schools were administered by the Roman Catholic, Anglican, Methodist and Presbyterian churches.
Source
Staff and students at St. Paul's Indian Industrial School, Middlechurch, Manitoba, 1901
Segregated Schools
Separate schools for Black students, called segregated schools, were present in Canada throughout the mid-1800s and to a lesser degree into the 20th century. Often, segregated schools meant a lower quality education for the students who attended them. One notable exception was the Buxton Mission School in the Elgin Settlement, just south of Chatham, Ontario. When White families objected to having Black students in their local school, Reverend William King opened a school that before long earned such a good reputation the White community begged to send their children there as well. Over the years, the number of segregated schools decreased. There were some all-Black schools still in existence in Nova Scotia during the 1960s. The last such school (in Guysborough, N.S.) closed in 1983.