Thematic Guides
Records of the Department of Public Works (RG 11)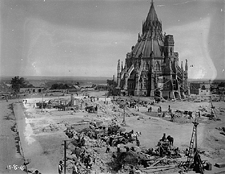 Source

This guide consists of strategies and advice for conducting research into the records of the Department of Public Works (RG 11). RG 11 has always been a source of dread to most archivists due to its extent, complexity and its complicated inventory. This inventory has undergone a number of reorganizations involving both series changes and volume renumbering. As old references are sometimes cited or requested, a conversion list is maintained on site.

This guide was revised in December 2000.

Government Records
1. Main Series (Central Registry)
There have been five Central Registry systems over the period 1839-1967. The records from the registries represent the most important part of RG 11, both in terms of volume and value. The corresponding series are:
A1 and A3 (Board of Works), 1839-1859 (docket 1, letterbooks);
B1 (Public Works), 1859-1879 (docket 1, letterbooks);
B2 (Public Works), 1879-1910 (docket 1, letterbooks);
B3 (Public Works), 1910-1950 (files); and
B4 (Public Works), 1950-1967 (files).
Note 1: The dates above are for the years that the systems were in use. There is a certain amount of overlap and bringing forward between systems.
Note 2: Most of these series have been modified, either here or before coming to Library and Archives Canada, so please pay attention to comments.
Series A1 and A3, 1839-1859
This is a complicated series as incoming correspondence exists in two forms  -  half are arranged by letter number and half (from the same series) are in retroactive subject files. To locate correspondence on a given subject:
Inward (Series A1)  -  if the subject is covered in the subject files (finding aid (FA) 11-2), refer to it. If not, refer to the registered correspondence arranged by letter number. The letter numbers are either in the registers of inward correspondence (vols. 996-106), which cover the period chronologically but not by subject, or in the subject registers (vols. 993-95), which only cover 1839-1847. It is possible to get the volume and reel from FA 11 with the letter number.
Outward (Series A3)  -  these letterbooks are listed in the inventory. Except for the subject registers (vols. 93-95), which only cover 1839-1847, the outward correspondence can only be accessed by date or addressee (see index in each volume) rather than by subject.
Series B1, 1859-1879
The incoming correspondence was retroactively arranged in subject files. Also, the subjects and subject numbers changed in 1874. To get into this series:
Inward (B1a)  -  simply go through the subject listing in FA 911-7. This will give the volume and reel containing the file(s) for each subject.
Outward (B1c)  -  these letterbooks are listed in the inventory. First, find the subject in the subject registers (B1b). This is done by using FA 911-9. Then, look at the appropriate register and find all the correspondence on the subject. (This includes both inward and outward, but refer to the latter.) With the letter number and date, and using the chronological list in the inventory, choose the appropriate letterbook(s).
Series B2, 1879-1910
The bulk of the inward correspondence between 1879 and 1892 has been destroyed. To get into this series:
Use the subject registers (B2b), which give date and letter numbers for both inward and outward correspondence. Locate the appropriate register by consulting FA 911-21. The register will list the total correspondence on the subject. Then, armed with date and letter number, locate the required letters. For inward correspondence (B2a), consult FA 911-18 and for outgoing letters (B2c) use FA 911-27 to find the call number.
Note: If the letter requested is an inward ca. 1879-1892 one, before ordering consult FA 11-19, which lists every surviving letter for this period rather than just the outside numbers in each volume, as FA 11-18 does.
Series B3, 1910-1950
Access to the files is provided by a card index system. See F.A. 911-28. The cards are divided into two main sections  -  public buildings and marine works (harbours and rivers). They are then organized alphabetically by location. Look up the subject and place concerned and this should give a file number. Then search, using this number, the B3 index cards up front and the file lists in FA 11-30. If this fails, the only other files in this series concerning public buildings will be found by consulting FA 11-28 (also some files on marine works). However, if the subject requested is marine work, there is a large quantity listed in FA 11-36, FA 911-69, FA 911-70 and FA 911-71 (the last three of which describe as yet unprocessed accs. 1983-84/304, 1983-84/356 and 1984-85/061, respectively). These files are not arranged by file number as they are mixed in with similar files from Series B4 (below), but are arranged alphabetically within categories.
Note: Many files from this series no longer exist.
Series B4, 1950-1967
Library and Archives Canada has a small volume of files from this series that can be located by using the B4 index cards, mainly dealing with non-structural subjects. An even smaller volume is listed in FA 11-36. The great bulk of files in this series concerning public buildings are listed in FA 11-36 and FA 11-28. The files are listed alphabetically by location. The marine works files from this series are in the four accessions listed in B3 (above).
2. Other Series That Can Be Consulted Regarding a Public Work in a Specific Location
Estimates (Series B6). These are very detailed but to a large degree duplicate the Sessional Papers, but not totally. Also they go up to 1949 which the Sessional Papers do not. Use FA 911-42 to locate the volumes for the appropriate year.
Specifications and drawings (Series D4). These are very good but they stop at 1920. Consult FA 911-47 for a shelf list.
Legal records (Series F1, 2 and 3). These are contracts, deeds and leases or, more frequently, the registers thereof. Usually not a great deal of detail.
Quebec and Ontario regional accessions. Accs. 1983-84/065, 1983-84/271 and 1984-85/086 contain a large volume of files on all types of public works in these two provinces. The accession lists, respectively FA 11-28, FA 11-64, FA 11-68 and FA 11-72 are reasonably good.
Atlantic Region files (Series G2). A small volume, but sometimes worth a try if the Maritimes is the requested area.
3. Miscellaneous Series
Unnumbered correspondence. Most of the Central Registry series have small parallel subseries of unnumbered material. See FA 11-3, FA 11-8 and FA 11-20 for Series A, B1 and B2.
Odds and Sods. Through the inventory are a fair number of subject specific series and subseries, e.g., Commission on the Houses of Parliament, Reports on Williamsburg Canals.
4. Series Regarding Other Functions
Government Telegraph and Telephone: Everything prior to 1910 is in the relevant Central Registry series. Do not attempt to figure out the system or use the contemporary index cards in vols. 2871-2887. Go through the Telegraph and Telephone index cards from beginning to end.
Railway Branch (Series Bld). This will rarely be used on its own but normally in conjunction with the other railway record groups.
Arbitrator's Office (Series E).
Chief Engineer's Office (Series C) and Chief Architect's Office (Series D).
5. Printed Sources
With nineteenth and early-twentieth century topics, the printed annual reports in the Sessional Papers cover all public works in detail and each volume has a reasonable index. In addition, we have the 1866-1867 report that gives the history of every public work up to Confederation and the 1867-1882 report that does the same from Confederation up to 1882. Reference to these printed sources may eliminate the need to consult the actual record. Researchers should refer to them.