Archived Content
This archived Web page remains online for reference, research or recordkeeping purposes. This page will not be altered or updated. Web pages that are archived on the Internet are not subject to the Government of Canada Web Standards. As per the Communications Policy of the Government of Canada, you can request alternate formats of this page on the Contact Us page.
Early Settlements
Muster Roll of Colonel Stephen Blucke's Company
Birchtown was one of several Black communities established in Nova Scotia between 1782 and 1784 by African Americans who had supported the British during the American Revolution. However, local hostility and difficult conditions eventually resulted in nearly half of the inhabitants of Birchtown leaving in 1792 for Sierra Leone in West Africa.
MG 9 B 9-14, vol. 1, file 3, p. 108-109
John Graves Simcoe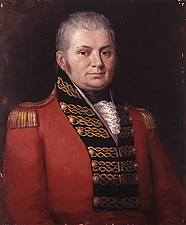 Under the administration of John Graves Simcoe (1752-1806), Lieutenant-Governor of Upper Canada (Ontario), legislation was introduced in 1793 which limited and eventually abolished slavery in Upper Canada.
The Memorial and Petition of James Frazer
James Frazer, a Loyalist, protested that "the Honorable Court at Montreal, are about Setting all Negroes Free from their Owners." A protest against the freeing of enslaved people, which is an example that some Canadians supported the institution of slavery.
Civil and Provincial Secretary, Lower Canada/ Series/1760-1840, RG 4 A 1, vol. 66, reel C-3011, p. 21153-21154
Location Ticket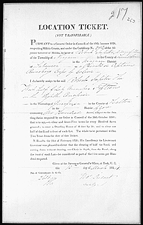 Grant of land to Robert Jupiter, a veteran of a Black militia unit in Upper Canada, March 13, 1824. Members of the Black community took an active part in the defence of Canada during the War of 1812.
RG 8 series I, vol. 1702, reel C-3839, p. 242
A Negro Male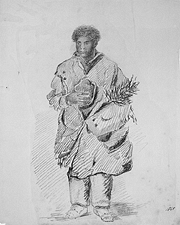 A full-length portrait of a Nova Scotian of African descent holding a hat in one hand and a branch in the other is attributed to Lady Falkland about 1845, when her husband was Governor of Nova Scotia. Approximately 3,000 Blacks immigrated to Nova Scotia during and after the American Revolution and 2,000 after the War of 1812.
Negro Man and Child on the Way Side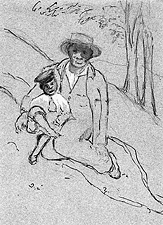 This image of an African Canadian man and child was made when southern Ontario was the home for several thousand refugees from the United States.
Treaty
This treaty, also known as the Webster-Ashburton Treaty, was an attempt by Great Britain and the United States to suppress the international slave trade from Africa to North America.
Daniel G. Hill fonds
MG 31 H 155, vol. 26, file 11
Painting of a Sale of Enslaved People
Painting of a sale of enslaved people by Henry Byam Martin, a British officer on a trip through Canada and the United States.