Archived Content
This archived Web page remains online for reference, research or recordkeeping purposes. This page will not be altered or updated. Web pages that are archived on the Internet are not subject to the Government of Canada Web Standards. As per the Communications Policy of the Government of Canada, you can request alternate formats of this page on the Contact Us page.
Black Communities in Canada
Deed of Sale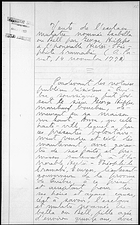 Quebec, Notarial Records, Joseph-Antoine Panet, November 14, 1778
MG 8 A 23, vol. 111, 4 p. (transcription)
Plan of the Elgin Settlement
Elgin (at Buxton, Ontario) was founded by the Reverend Dr. William King in 1849 as a planned community. The settlement demonstrated to pro-slavery supporters that people of African descent could prosper outside the bonds of slavery.
William King fonds
MG 24 J 14, item 644
Share Certificate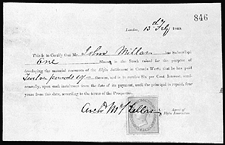 Funds were also raised in England to support services such as schools and churches at the Elgin Settlement in Canada West (Ontario).
William King fonds MG 24 J 14, item 846
Petition
Petition opposing the plan by the Presbyterian Synod to settle "coloured people" in several townships in southern Ontario.
William King fonds MG 24 J 14, item 698-699
Letter from Baltimore
Letter of introduction for John Deaver, a delegate from the "free people of colour" in Baltimore, to inquire about conditions in Upper Canada, with the intention of settling in Canada.
RG 5 A 1, vol. 100, p. 56286
Fugitive Slaves in Canada
These posters give evidence of the leading role played by refugees and clergy, including the Reverend Dr. William King, in working on behalf of the Canadian anti-slavery movement with abolitionists in England, Ireland and Scotland.
William King fonds MG 24 J 14, p. 860 and p. 863
Pamphlet on the Elgin Settlement
William King, Fugitive Slaves in Canada: Elgin Settlement, 1860