Archived Content
This archived Web page remains online for reference, research or recordkeeping purposes. This page will not be altered or updated. Web pages that are archived on the Internet are not subject to the Government of Canada Web Standards. As per the Communications Policy of the Government of Canada, you can request alternate formats of this page on the Contact Us page.
The American Civil War
A Map of the Great River St. John and Waters [...]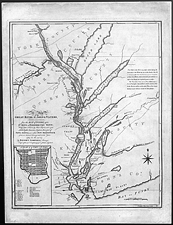 The "Negro settlement" mentioned on this map of settlement along the Saint John River is a reminder that approximately 3,000 of the Loyalists coming to the Atlantic colonies during and after the American Revolution were of African ancestry.
NMC-000254
Osborne Perry Anderson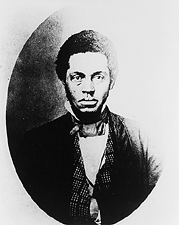 Born in West Fallowfield, Pennsylvania, Osborne Perry Anderson (1839-1872) was a printer at the newspaper Provincial Freeman and was living in Chatham, Ontario when John Brown, the American abolitionist, arrived in 1858. He took part in Brown's unsuccessful raid at Harpers Ferry in 1859 and escaped back to Canada. During the American Civil War, he served as a non-commissioned officer in the United States Army. He died in Washington, D.C.
Daniel G. Hill fonds
Abraham W. Shadd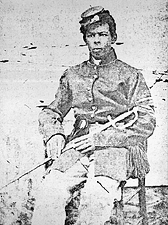 Abraham W. Shadd, a leader of the refugee community around Chatham, Ontario, had served in the 24th Kent Militia and later joined the United States Army at Detroit in August 1863. He served in the 55th Massachusetts Regiment and later served as a captain in the 104th Regiment of Colored Troops.
Daniel G. Hill fonds
A Military Commission in the Union Army
Commission appointing Samuel St. Onge Chapleau (1839-1921) as second lieutenant in the United States Army in 1862. Chapleau was born in Syracuse, New York, and educated in Terrebonne near Montreal. With the outbreak of the Civil War, he enlisted in the United States Army and ended the war with the rank of major. In 1871, he returned to Canada and in 1873 entered the civil service in Ottawa. He was buried in Arlington Cemetery.
MG 30 E 309, vol. 1
Recruitment Poster
The Honourable Arthur Rankin (1816-1893) was a militia colonel and member of the Assembly when in July 1861 he volunteered to raise a lancer regiment among Canadians to serve in the United States Army during the American Civil War. In September, a warrant was issued to raise a regiment and Rankin was commissioned by the United States Army. However, Rankin was arrested in October in Toronto for violation of the Foreign Enlistment Act. He was compelled to resign his American commission and the Lancer Regiment was disbanded in 1862.
MG 26 A, vol. 297, reel C-1693, p. 136065
Speech by George Brown
George Brown spoke on the American Civil War and Slavery. This was one of the concluding events of the Anti-Slavery Society.
The American War and Slavery. Speech of the Hon. George Brown at the anniversary meeting of the Anti-Slavery Society of Canada, held in Toronto on Wednesday, February 3, 1863