Archived Content
This archived Web page remains online for reference, research or recordkeeping purposes. This page will not be altered or updated. Web pages that are archived on the Internet are not subject to the Government of Canada Web Standards. As per the Communications Policy of the Government of Canada, you can request alternate formats of this page on the Contact Us page.
People
Frederick Gordon Bradley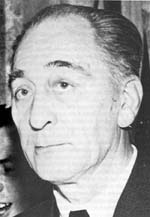 Frederick Gordon Bradley.
(March 21, 1886 - March 30, 1966)
A member of the team that negotiated the terms of union between Newfoundland and Canada, F. Gordon Bradley became the province's first federal cabinet minister.
Frederick Gordon Bradley was born in St. John's, Newfoundland, the son of Norman Bradley and Evangeline Trimm. He was educated at Methodist College in St. John's. After finishing his education in 1906, he spent three years as the principal of the Methodist School at Bonavista. He then returned to St. John's, where he read law for three years with Justice James M. Kent before enrolling at Dalhousie University to continue his legal studies. He was called to the bar in 1915. Three years later he formed a law partnership with A. B. Morine that lasted until 1922, after which time he established his own practice.
Bradley was first elected to the House of Assembly in June 1924, as a Conservative member for Port de Grave. He served in the cabinet as a minister without portfolio until 1926; he then resigned his post over claims of broken government promises, choosing to sit as an Independent. In the election of 1928, he ran and won as a Liberal candidate in Trinity Centre. He was again appointed as minister without portfolio, but a year later accepted the post of solicitor-general. After the election of 1932, he was one of only two Liberals left in the Assembly. As the leader of the opposition, he argued against the creation of the Commission of Government. Once responsible government was suspended in 1933, Bradley returned to private law practice, and was later appointed chief magistrate. He resigned the position in 1939 to devote time to private business interests.
He was elected as a delegate to the National Convention in 1946. After the death of Cyril Fox, the Convention's first chairman, Bradley was named as his successor. He was the leader of both the London delegation, and the first Ottawa delegation that created proposed terms for union with Canada. After the referenda of 1948, Bradley was also a member of the final negotiating team that went to Ottawa. When Newfoundland joined Confederation in 1949, Bradley was appointed as the province's representative in the federal cabinet, in the position of secretary of state of Canada. He also participated in the celebrations in Ottawa marking Newfoundland's entry into Confederation. In the federal election of that summer, Bradley was elected as a Liberal member for Bonavista-Twillingate, a seat he would hold until his appointment to the Senate in 1953. Bradley died in Bonavista.
Sources
"Bradley, Frederick Gordon, LLB, MHA". -- Who's who in and from Newfoundland 1927. -- Ed. R. Hibbs. -- St. John's, Nfld. : R. Hibbs, 1927. -- P. 157-158
"Bradley, Hon. F. Gordon". -- Canadian who's who. -- Toronto : Trans-Canada Press, 1966. -- Vol. 10, p. 115
Harrington, Michael F. -- "Bradley, Frederick Gordon". -- Dictionary of Newfoundland and Labrador biography. -- St. John's, Nfld. : Harry Cuff Publications Ltd., 1990. -- P. 29-30
Murray, Ettie L. Gordon. -- "Bradley, F. Gordon". -- Encyclopedia of Newfoundland and Labrador. -- Ed. Joseph R. Smallwood. -- St. John's, Nfld. : Newfoundland Book Publishers Ltd., 1967. -- Vol. 1, p. 239