Archived Content
This archived Web page remains online for reference, research or recordkeeping purposes. This page will not be altered or updated. Web pages that are archived on the Internet are not subject to the Government of Canada Web Standards. As per the Communications Policy of the Government of Canada, you can request alternate formats of this page on the Contact Us page.
Incredible Inventions
Robertson Screw and Screwdriver
Inventor: Peter Lymburner Robertson (1879-1951)
After badly cutting his hand while using a slot-headed screwdriver, Peter Lymburner Robertson invented the square-headed screwdriver and screw in 1908. He received the Canadian patent for his invention in 1909. A person could drive a screw more quickly with this new design and the screw was self-centering so only one hand was needed. On top of that, the driver fit more tightly in the screw's head, thereby reducing the chance of the screwdriver slipping out. The Robertson screw was a big hit! Industry loved it because it sped up production and resulted in less product damage. No one has been able to improve on this design in all the years that have followed!
Source
Peter Lymburner Robertson, inventor of the Robertson screw and screwdriver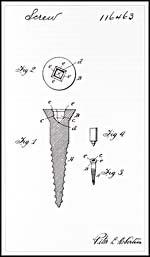 Source
Page from a patent for the Robertson screw, 1909
Source
Promotional card for the Robertson screw, which promotes the invention as the most recent advancement on Archimedes' screw
References
Lamb, Ken. P.L.: Inventor of the Robertson Screw. Milton, Ontario: Milton Historical Society, 1998.
Spencer, Bev. Made in Canada: 101 Amazing Achievements. Toronto: Scholastic Canada, 2003.