Archived Content
This archived Web page remains online for reference, research or recordkeeping purposes. This page will not be altered or updated. Web pages that are archived on the Internet are not subject to the Government of Canada Web Standards. As per the Communications Policy of the Government of Canada, you can request alternate formats of this page on the Contact Us page.
Interesting People
Terry Fox (1958-1981)
Every September thousands of people, in 60 different countries, take to the streets to run and to continue the dream of a single man. Who could have inspired such participation and what was his cause? The man was Canadian Terry Fox and the cause was to raise money for cancer research. It began when Terry Fox was diagnosed with osteogenic sarcoma, a form of bone cancer. His right leg was amputated six inches above the right knee. Always an athlete, once Terry recovered he resolved to run across Canada with the goal of collecting one dollar for every Canadian. Terry began his "Marathon of Hope" on April 12, 1980 as he dipped his artificial foot in the Atlantic Ocean. He hoped to dip the same foot in the Pacific at the end of his run. However, the grueling pace that Terry set for himself, through rain or shine, was cut short when doctors discovered that cancer had spread to his lungs.
Source
Terry Fox on the Marathon of Hope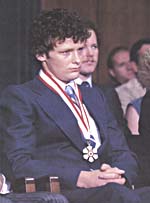 Source
Terry Fox at his appointment to the Companion of the Order of Canada
Terry died one month before his 23rd birthday. The Marathon of Hope had collected $24.17 million, enough to have met his goal.
Since his death, Terry's heroic perseverance is honoured through numerous awards and research grants. Funds have continued to be raised for cancer research as more and more people join in the annual run that Terry began.
References
Brown, Jeremy, and Gail Harvey. Terry Fox: a Pictorial Tribute to the Marathon of Hope. Don Mills, Ont.: General Pub., 1980.
Scrivener, Leslie. Terry Fox: His Story. Toronto: McClelland and Stewart, 2000.