Archived Content
This archived Web page remains online for reference, research or recordkeeping purposes. This page will not be altered or updated. Web pages that are archived on the Internet are not subject to the Government of Canada Web Standards. As per the Communications Policy of the Government of Canada, you can request alternate formats of this page on the Contact Us page.
Glenn Gould
Memorabilia
Personal Items
OMEGA wristwatch, presented to Gould at a civic reception by Toronto mayor Nathan Phillips. The inscription reads: "Presented by the City of Toronto to Glenn Gould at the age of 23 years in recognition of his phenomenal achievements in the musical world as a concert pianist and composer, April 1956. Nathan Phillips, Q.C., Mayor; George A. Weale, City Clerk"
---
MINERVA mechanical stopwatch
Articles of clothing: hat, scarf, and gloves
Rubber stamp: "Glen [sic] Gould, pianist"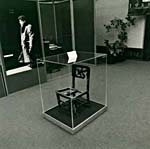 Gould's treasured folding piano chair, adapted by his father from a set of folding chairs for playing cards
Gould's brown leather briefcase with many luggage tags attached
Gould's TASCAM mixer