Archived Content
This archived Web page remains online for reference, research or recordkeeping purposes. This page will not be altered or updated. Web pages that are archived on the Internet are not subject to the Government of Canada Web Standards. As per the Communications Policy of the Government of Canada, you can request alternate formats of this page on the Contact Us page.
Themes
Prudence Heward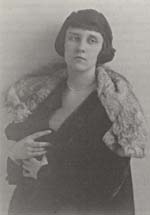 (1896-1947)
Painter
Prudence Heward
Source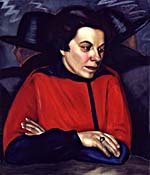 Au Café
Painting
Au Café, by Prudence Heward
Source
---
Born Efa Prudence Heward, in 1896, Prudence was the sixth of eight children in a prosperous Montréal family. Educated privately, she showed an early interest in art, perhaps encouraged by her mother and sister Dorothy who also had artistic abilities. Heward's formal art training began with lessons at the school of the Art Association of Montreal (AAM), where she received instruction in drawing from William Brymner and landscape painting from Maurice Cullen.
1912 was a difficult year for the Heward family, with the death of Prudence's father and two of her sisters. Despite her losses, Prudence won an AAM scholarship and continued her studies at the AAM. She exhibited her work, for the first time, at the AAM spring exhibition, in 1914. The start of the First World War led to changes at the school, both for instructors and students. In 1916, Prudence moved to England, with her mother and sisters, to be near her brothers who were in the armed forces. In England, Prudence worked for the Red Cross but it does not appear that she painted during her two-year stay in that country.
On her return to Montréal in 1918, Prudence resumed her studies at the AAM. From 1925-1926, she took classes in Paris. While there, she met Ontario painter Isabel McLaughlin with whom she became friends. Heward and McLaughlin would later go on sketching trips to locales as varied as northern Ontario and Bermuda. Heward's friendship with other women artists, such as McLaughlin and members of the Beaver Hall Group, was important because, at the time, the role for women in art was limited. Perhaps this partly explains her later involvement in organizations such as the Canadian Group of Painters, which she co-founded in 1933. She also served as vice-president of the group for several years. In 1939, Heward was a founding member of the Contemporary Arts Society.
Heward continued to exhibit her work and won a number of awards. In 1924, she exhibited for the first time at the annual exhibition of the Royal Canadian Academy [of Art]. Then, in 1929, she won the initial first prize in the Willingdon competition for her painting, Girl on a Hill. These competitions were organized by the National Gallery of Canada and sponsored by the governor general of the day, Lord Willingdon. She was invited to exhibit with the Group of Seven and was friends with member A.Y. Jackson. The first solo exhibition of her work was at the Scott Gallery in Montréal, in 1932. Several shared shows with fellow artists in the Beaver Hall Group followed: in 1934, in Toronto and Montréal; in 1940, in Toronto and in 1945, in Windsor.
The increased opportunities for showing her work and the recognition accorded it, led to increased sales and prices. In 1930, Heward's painting, Rollande, with its strong colours and the assertive stance of its figure, sold for $600 to the National Gallery — not a small sum for the time. Throughout the 1930s, the painting won great acclaim outside Canada as part of travelling exhibits of Canadian art. Dark Girl, another strong portrait, was acquired for Hart House at the University of Toronto. Works by Heward can be found in several Canadian galleries including the Winnipeg Art Gallery and the Montréal Museum of Fine Arts, as well as private collections.
Heward's lifelong frail health was exacerbated by a car accident, in 1939, which left her with a broken arm and more seriously, injured her nose. This had the effect of worsening her asthma. Her condition deteriorated in the following years and in the summer of 1945, she completed her last painting, Caladium. She spent some time at Fernbank, near Brockville, her mother's family place and scene of earlier sketching expeditions. With her mother and sister, Heward went to Los Angeles for a new medical treatment and died there on March 19, 1947.
A memorial exhibition of Heward's work was shown at the National Gallery in March of 1948 and the accompanying catalogue shows the range of her work. While primarily a figure painter, especially of women and children, she also produced landscapes and still lifes. That this delicate woman could produce such strong figures in her painting continues to surprise.
While a supportive friend to her fellow artists, Heward was not anxious to ally herself with any one school of painting. Rather, she welcomed the opportunity to try different styles. At a time when landscape was the dominant form in Canadian painting, Heward pursued representational figure painting, often adding landscapes to the background. The individuals depicted range from family members to friends and models of various backgrounds, but all seem to challenge the viewer with a strong sense of themselves, most of them looking back defiantly. The artist's use of bold colours and strong planes heighten this effect.
The memorial exhibition of Prudence Heward's work gave it some prominence shortly after her death, but later it was mostly forgotten outside the Montréal area. Perhaps recent publications on her and other members of the Beaver Hall Group will lead to a resurgence of interest in this artist.
Resources
Braide, Janet. — Prudence Heward (1896-1947) : an introduction to her life and work. — Montreal : Walter Klinkhoff Gallery, 1980. — 26 p.
Buchanan, Donald W. — The growth of Canadian painting. — Toronto : Collins, 1950. — P. 51-53
By woman's hand [video recording]. — Directed by Pepita Ferrari. — Montreal : National Film Board of Canada, 1994. — 1 cassette, 58 minutes. — Closed captioned
Contemporary Canadian artists. — Toronto : Gale Canada, 1997. — P. 252-254
Creative Canada : a biographical dictionary of twentieth-century creative and performing artists. — Compiled by Reference Division, McPherson Library, University of Victoria. — Toronto : University of Toronto Press, 1971. — Vol. 1, P. 152-153
Grafftey, Heward. — "Chapter four : Prudence Heward". — Portraits from a life. — Montreal : Véhicule Press, 1996. — P. 67-78
Heward, Prudence. — Prudence Heward, 1896-1947 : memorial exhibition. — Ottawa : National Gallery of Canada, 1948. — Pages 7-10. — Text by A.Y. Jackson
Housser, Yvonne McKague. — "Canadian Group of Painters - 1944". — Canadian art. — Vol. 1, no. 4 (April-May 1944). — P. 142-147
Luckyj, Natalie. — Expressions of will : the art of Prudence Heward. — Kingston, Ont. : Agnes Etherington Art Centre, 1986. — 128 p. — Title of additional t.p.: L'expression d'une volonté : l'art de Prudence Heward
____. — Visions and victories : 10 Canadian women artists 1914-1945. — London, Ontario : London Regional Art Gallery, c1983. — P. 34-40. — Also available in French, entitled Visions et triomphes : les oeuvres de dix artistes canadiennes, 1914-1945
MacDonald, Colin S. — A dictionary of Canadian artists. — Volume 2. — Ottawa : Canadian Paperbacks Pub., 1975. — P. 432-434
Meadowcroft, Barbara. — Painting friends : the Beaver Hall women painters. — Montreal : Vehicule Press, 1999. — 240 p.
Pearce, Lynne. — "The viewer as producer : British and Canadian feminists reading Prudence Heward's 'Women'". — RACAR. — Vol. 25, no. 1-2 (1998). — P. 94-103
"Prudence Heward". — Artcyclopedia [online]. — All links last verified April 18, 2002. — [Cited May 31, 2002]. — Access: www.artcyclopedia.com/artists/heward_prudence.html