Archived Content
This archived Web page remains online for reference, research or recordkeeping purposes. This page will not be altered or updated. Web pages that are archived on the Internet are not subject to the Government of Canada Web Standards. As per the Communications Policy of the Government of Canada, you can request alternate formats of this page on the Contact Us page.
Themes
Rita Letendre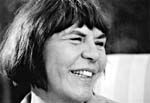 (1928- )
Painter
Rita Letendre
Source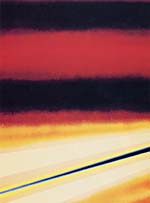 Orani
Silkscreen
Orani, by Rita Letendre
Source
---
Automatiste, colourist, muralist, and engraver: these are some of the words that have been used to try to define Rita Letendre and her work.
Born in Drummondville, in 1928, to a Quebecois mother and a father of Aboriginal origin, she is the eldest of a poor family of seven children. In 1941, she followed her parents to Montréal and took care of her brothers and sisters before working as a waitress and starting, at the age of 19, brief studies at the Montreal School of Fine Arts. This rigid and conservative environment was a marked contrast to the one she discovered after meeting Paul-Émile Borduas and his friends, the signatories of the Refus global.
Leaving school, and influenced by this avant-garde group imbued with original and modern thought, she created her own style, her very own way of seeing her work. From a figurative style she moved to the abstract, becoming aware that the represented object is not the essential vehicle for emotion.
The exhibit "La matière chante", organized by Borduas in 1954, was a turning point for Letendre; it made her known in the art world and gave her confidence in her art. In the following years, she made many trips abroad. In Italy, she met the Israeli sculptor, Kosso Eloul, who shared her life for thirty years, until his death in the mid-1990s.
New York, Toronto, Vancouver, Los Angeles, Paris, Rome, San Francisco, Winnipeg, Tel-Aviv, Québec City and Montréal are only some of the locations where the works of Rita Letendre were shown in solo or group exhibits. She explored several styles and techniques over the years, creating original works — paintings that stand out not only by their lines and colours, but also by their size. Her first large-scale work was a 24 by 21 foot mural titled Sunforce (1965), which she created for the University of California at Long Beach and her largest, a work 60 by 60 feet, titled Sunrise (1971) is on the outside wall of the Neill-Wycik Building at Ryerson University in Toronto.
Letendre's work is a love story of light and colour. Her paintings are distinguished by their intensity and her painting has evolved while maintaining a dominance of light and energy. Her shapes are simple and catch the eye. She has mastered materials and explored techniques. She works directly on canvas without any intermediary or preparatory steps. She has moved from brush to spatula, to hands, to gouache, to pastels, to airbrush, then to lithography and serigraphy, as well as many other techniques.
Throughout her career, Letendre has received numerous prizes and grants, including the Prix Rodolphe-de-Repentigny in 1960. Her works can be seen in many private and public collections, including:
The National Art Gallery of Canada, Ottawa
Museum of Contemporary Art, Montréal
Art Gallery of Vancouver
Art Gallery of Ontario, Toronto
Carleton University, Ottawa
Royal Bank of Canada, Toronto
Long Beach Museum of Fine Arts, California
Embassy of Canada, Rio de Janeiro
The Musée du Québec is preparing a retrospective exhibit of its Rita Letendre collection, which will be held in 2003. The exhibit will provide an opportunity to meet this daring woman through her work and to understand why she says: "La lumière, depuis le premier choc à la naissance, jusqu'au dernier souffle, la lumière est la vie. En tout cas, ç'a été ma vie !" (Light, from the first shock at birth to the last breath, is life. Anyway, it has been my life!) (Roberge, Femme de lumière, p. 22).
Resources
Agnes Etherington Art Centre. — From women's eyes : women painters in Canada. — Dorothy Farr and Natalie Luckyj. — Kingston, Ont. : Agnes Etherington Art Centre, 1975. — 81 p.
Alechinsky, Pierre. — Écrits et témoignages de 24 peintres. — Montréal : Fini/Infini, 1994. — 140 p.
Asselin, Hedwidge ; Letendre, Rita. — Rita Letendre : les éléments. — Montréal : Éditions Simon Blais, 2001. — 60 p.
Engel, Walter. — "10 viewpoints from women artists across Canada plus 'A male's view' by Walter Engel". — Art magazine. — Vol. 5 no. 15 (Fall 1973). — P. 12-13
Letendre, Rita ; Paikowsky, Sandra. — Rita Letendre : the Montreal years, 1953-1963 = Rita Letendre : les années montréalaises, 1953-1963. — Montréal : Galerie d'art Concordia, 1989. — 80 p.
Rita Letendre [online]. — Galerie Simon Blais (Montréal). — [Cited June 7, 2002]. — Access: www.galeriesimonblais.com/en/artisteOeuvres.php?id=20
"Rita Letendre". — Les Femmes artistes du Canada = Women artists in Canada [online]. — Pham Van Khanh, c2000. — [Cited June 6, 2002]. — Access: http://epe.lac-bac.gc.ca/100/205/301/ic/cdc/waic/rilete/rilete_f.htm
Roberge, Gaston. — Femme de lumière. — Saint-Laurent : Diffusion Dimedia, 1997. — 95 p.