Archived Content
This archived Web page remains online for reference, research or recordkeeping purposes. This page will not be altered or updated. Web pages that are archived on the Internet are not subject to the Government of Canada Web Standards. As per the Communications Policy of the Government of Canada, you can request alternate formats of this page on the Contact Us page.
Themes
Daphne Odjig
(1919- )
Painter
Daphne Odjig
Source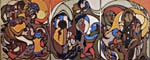 Roots Painting 1979
Roots, by Daphne Odjig, 1979
Source
---
Born and raised in the village of Wikwemikong, on Manitoulin Island, Daphne Odjig has strong traditional roots in her Native culture (she is Potawatomi, Odawa, and English) and is proud of the artistic tradition of her ancestors. Her grandfather, Jonas Odjig, carved tombstones for the nearby church and later sketched and painted church landscapes. Her father painted war scenes and portraits of soldiers from the Great War, and was a talented musician.
Growing up on a dairy farm, Daphne was no stranger to hard work. Nevertheless, she and her three siblings found time to enjoy the local swimming hole in the summers and local storytelling in the winters. Unfortunately, at age 13, a bout of rheumatic fever cut short her school attendance — an event that frustrated her because she had plans of becoming a schoolteacher. Later, Daphne treasured the convalescent time she spent at home because it had provided the opportunity to become very close to her mother and grandfather.
As it happened, these two important people in her life died when she was 18 years old. Soon after, Daphne left the "Wiki" reserve for small-town Ontario, that is, Parry Sound, where she experienced racial discrimination for the first time. It was here that she and her siblings used the surname "Fisher," the English translation of "Odjig," as a response to the prejudice.
During the early years of World War II, Daphne moved to Toronto for job opportunities. Here, she met her first husband, Paul Somerville, whose military post took them to the West Coast. It was not until their two sons were attending school that Daphne began to take her painting seriously.
Daphne has said that she "was born with a paintbrush in her hand" and that, as a child, she lived for Friday art class at school. Her early paintings and sketches were in the realist style, mostly as a result of encouragement from teachers to create "realistic" paintings. Daphne felt that these instructions were rigid however, and she wished to paint how she "felt."
As an adult, Daphne did initially paint in a realist style, but she soon experimented with other styles as well. A self-taught artist, she often visited art galleries and borrowed art books from libraries, studying various artists and their work. Vanderburgh and Southcott recap Daphne's exploration of art styles as follows: "Daphne had taught herself to paint realism; next she explored cubism and then abstract expressionism. She moved through impressionism and cloissonnism. She was influenced by the Northwest Coast art and the developing Anishnabe style" (A Paintbrush in My Hand, p 88).
Daphne's work is often associated with the New Woodland school. This style was originally attributed to Norval Morrisseau, who was the first to defy cultural restrictions by taking the sacred pictography of the Ojibwa-Midewewin belief system outside Native communities. The style is described as having several characteristics: a predominant black form line, an undifferentiated black background, pure unmixed colors, a system of x-ray views and the system of interconnecting lines of sacred pictographs that is known as "linear determinatives" (Odjig : the Art of Daphne Odjig, 1960-2000, p. 16).
Bob Boyer notes that "Daphne often claims that she is not part of the New Woodland school" in that her works incorporated the importance of womanhood and sense of family, while others in the New Woodland group "concerned themselves with a spiritual quest" (Odjig : the Art of Daphne Odjig, 1960-2000, p. 12). Her work also differed in that she was influenced by Picasso's cubism, but within an Aboriginal context. She was attracted to the cubist style because of its "disregard for perspectival space, its skewing of the elements and relationships of reality, and its central compositional structure" (Odjig : the Art of Daphne Odjig, 1960-2000, p. 17).
In the early 1960s, Aboriginal communities across Canada were undergoing a cultural revival. At about this time, Daphne was encouraged by her sister-in-law to paint scenes from Manitoulin mythology. She also wrote and illustrated a series of children's books on legends about Nanabush, a trickster figure in Ojibwa culture. This work gave Daphne a focus and later, the confidence to paint for an audience. However, a major setback occurred: in 1960, her husband, Paul Somerville, died in an automobile accident. Daphne grieved this loss by working the strawberry farm she and her husband had built together and painting in the evenings.
In 1962, Daphne re-married. Her second husband is Chester Beavon. Beavon's community development work took the couple to northern Manitoba in the mid-1960s. Here, Daphne learned of the plight of the displaced Easterville Cree, whose lands were flooded by man-made dams. "She felt the need to respond to a community searching for its roots and contemporary relevance" (Odjig : the Art of Daphne Odjig, 1960-2000, p. 15). This response was manifested in a series of ink drawings about life on the reserve, with images of subsistence activities.
In 1972, Odjig's art took her to Winnipeg and a pivotal exhibition, "Treaty Numbers 23, 287 and 1171," at the Winnipeg Art Gallery. The exhibition featured her work, along with the work of Jackson Beardy and Alex Janvier. This was the first time Native artists were featured in a Canadian public art gallery, rather than a museum. Regarding the significance of the exhibition, Carol Podedworny notes: "That the contemporary productions of living Canadian Native artists would remain relegated to museums of anthropology and ethnography well into the 1980s confirms the colonialist mentality that has surrounded the exhibition and interpretation of Native art in Canada for nearly sixty years" (Odjig : the Art of Daphne Odjig, 1960-2000, p. 14). This statement gives an idea of the struggle Native artists faced in their attempts to be recognized in the mainstream art world. In addition, Daphne was the only Native woman artist facing this struggle in the early years, a situation made all the more difficult because she was a self-taught artist and, as a result, not respected at that time.
Winnipeg was, nonetheless, something of a watershed for Daphne. It was here, in 1973, that she co-founded the Professional Native Indian Artists Association (colloquially called the "Indian Group of Seven"). This group included Daphne, Jackson Beardy, Carl Ray, Joseph Sanchez, Eddy Cobiness, Norval Morrisseau and Alex Janvier. As is evident, Daphne was the first and only woman to be a part of this group. Later, in 1974, Daphne and Chester opened the Warehouse Gallery in Winnipeg, a huge venture that provided support for emerging Native artists.
In 1976, the Beavons moved to their current home in Anglemont, British Columbia, a peaceful spot near Lake Shuswap. It was here that the ideas coalesced for a huge mural, commissioned by the Museum of Man in Ottawa (now, the Canadian Museum of Civilization in Gatineau). While these ideas were taking shape, "Daphne realized she was going to portray history from the Native point of view. She would bring into this history her own reactions as a Native person — her emotions of horror, pain, anger and hope" (A Paintbrush in My Hand, p. 85). The four-part mural, entitled The Indian in Transition (1978), was 8' x 27' and, as Podedworny writes, provided Daphne with the "...opportunity to be bolder, to express emotions with no inhibition ... [Daphne considered this piece] a personal achievement related to her admiration of Picasso's freedom in expressing human truths. She thinks that her public had not been ready, to this point, for her to depict human agony on canvas" (Odjig : the Art of Daphne Odjig, 1960-2000, p. 20).
Since her work on this mural, Daphne has continued to paint without inhibition. Podedworny describes Odjig's 1970s work as political, and uses the metaphor of cultural anthems to describe her work from the 1980s and 1990s (Odjig : the Art of Daphne Odjig, 1960-2000, p. 14). Odjig's work, Podedworny argues, has evolved to a more lyrical emphasis and "the paintings seem to reflect a peace and tranquility not evident in Daphne's political oeuvre" (Odjig : the Art of Daphne Odjig, 1960-2000, p. 24).
Interestingly, another mural, Roots, summarizes Odjig's journey towards self-discovery:
Roots, a visual biography, consists of three panels, each five by four feet... The panel on the left depicts the harmonious life that she [Odjig] knew on the reserve. The middle one shows a female form turning her back to the viewer and heading for the distant city; the centre foreground contains tree roots wrenched from the earth and a headless body with two free-floating faces (one red, one blue), representing her identity crisis. The third panel represents a whole person, with her uncertainties resolved: 'You find out who you are and are proud... only when you discover yourself can you be secure.'
(A Paintbrush in My Hand, p. 90)
Odjig has accomplished a tremendous amount in her lifetime. The following are some of her achievements:
Received commissions from Expo '70 in Osaka, Japan; the Manitoba Museum of Man and Nature; and the Israeli airline, El Al;
Awarded a six-month scholarship by Sweden's Brucebo Foundation in 1973;
Received an Honorary Doctorate of Letters from Laurentian University in 1982, an Honorary Doctorate of Law from the University of Toronto in 1985, and an Honorary Doctorate of Education from Nipissing University in 1997;
Served as advisor to the Society of Canadian Artists of Native Ancestry (SCANA) in 1985; in 1993, this organization honoured her as an Elder and presented her with a sacred eagle feather;
In 1986, she was one of four artists in the world, selected by the curators of the Picasso Museum in Antibes, France, to paint a memorial to Picasso;
Received the Order of Canada, in 1986, for her artistic and social activism;
Elected to the Royal Canadian Academy [of Art] in 1989;
Presented with a National Aboriginal Achievement Award for Arts and Culture in 1998;
Received a 2007 Governor General's Award in Visual and Media Arts for her artistic achievement.
In October 2009, Daphne Odjig was further honoured with the first solo exhibition by a female First Nations artist at the National Gallery of Canada.
Carol Podedworny closes her tribute to Daphne as follows: "Odjig has played an important part in recording developments that have been traumatic, passionate and critical to the rewriting of Canadian art history" (Odjig : the Art of Daphne Odjig, 1960-2000, p. 26).
However, it is fitting that we honour the artist with the last word:
If my work as an artist has somehow helped to open doors between our people and the non-Native community, then I am glad. I am even more deeply pleased if it has helped to encourage the young people that have followed our generation to express their pride in our heritage more openly, more joyfully than I would have ever dared to think possible.
(Odjig : the Art of Daphne Odjig, p. 78)
Resources
"Brush in hand : Daphne Odjig is the grand lady of Native art". — Calgary herald. — (Feb. 21, 1993). — P. C1, C3
"Daphne Odjig : arts and culture". — National Aboriginal Achievement Award's 1998 recipients [online]. — National Aboriginal Achievement Foundation. — [Cited May 31, 2002]. — Access: www.naaf.ca/rec98.html
Edinborough, A. — "Painter's lifework a profound synthesis". — The financial post. — (Saturday April 27, 1985). — P. 26
Garneau, D. — "[Exposed : aesthetics of Aboriginal erotic art. Mackenzie Art Gallery. Regina]". — Border crossings. — Vol. 18, no. 4 (Nov. 1999). — P. 78-80
Knapp, M. — "Nature's resident artist". — Aboriginal voices. — Vol. 5, no. 5, (Oct. 1998). — P. 26-29
Lusty, T. — "Daphne Odjig's hand an extension of the soul (A paintbrush in my hand)". — Windspeaker. — Vol. 13, no. 1 (1995). — P. 8
Odjig, Daphne. — A paintbrush in my hand. — Through R.M. Vanderburgh and M.E. Southcott. — Toronto : Natural Heritage/Natural History, c1992. — 174 p.
____. — Odjig : the art of Daphne Odjig, 1960-2000. — Essays by Bob Boyer and Carol Podedworny ; foreword by Phillip Gevik. — Toronto : Key Porter Books, 2001. — 126 p.
"Spirit's journey : the life and art of Daphne Odjig". — Equinox. — Vol. 5, no. 4 (1986). — P. 50-59