Archived Content
This archived Web page remains online for reference, research or recordkeeping purposes. This page will not be altered or updated. Web pages that are archived on the Internet are not subject to the Government of Canada Web Standards. As per the Communications Policy of the Government of Canada, you can request alternate formats of this page on the Contact Us page.
Themes
Mary Pratt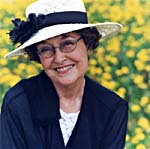 (1935- )
Painter, Printmaker
Mary Pratt
Source
Poppyseed Cake: Glazed for Calypso
Painting
2002
Poppyseed Cake: Glazed for Calypso, by Mary Pratt
Source
---
Born and raised in Fredericton, New Brunswick, Mary Frances West and her younger sister Barbara had a very proper, yet idyllic, childhood. Mary was influenced by the rectitude of her father, William John West, a prominent lawyer who later became attorney general and justice of the Supreme Court of New Brunswick. She also learned from the private, enigmatic presence of her mother, Katherine Eleanor (McMurray) West, and the dignified comportment of her maternal grandmother, Edna McMurray. These women provided her with the gift of meaningful order and ritual in her childhood. Much later, when trying to manage her own children, various pets, a garden, a talented and already famous husband, as well as struggling to find time to paint, Mary found that an orderly life was essential.
In 1953, Mary enrolled in the Fine Arts program at Mount Allison University in Sackville, New Brunswick. She was taught by such eminent artists as Alex Colville, Lawren P. Harris and Ted Pulford. Graduating in 1956 with a certificate in Fine Arts, she moved to St. John's, Newfoundland and Labrador (formerly Newfoundland) and worked as an occupational therapist. After marrying, in 1957, she and husband Christopher Pratt moved to Glasgow, where Christopher attended the Glasgow School of Art. Returning to Canada two years later, Mary entered the fourth year of Mount Allison University's Bachelor of Fine Arts program. She spread her final year of coursework over two years, while working at home and caring for her two babies. In 1961, she graduated with a Bachelor of Fine Arts, returned to St. John's, and taught painting in the Extension Department at Memorial University of Newfoundland and Labrador (formerly Newfoundland).
In 1963, the Pratt family moved to a cottage on the Salmonier River in rural Newfoundland and Labrador (formerly Newfoundland). By 1964, two more children were born. During this hectic period, Mary resented Christopher's early successes. Her own domestic demands left her unfulfilled as a painter. Finally, in March 1967, she had her first exhibition at the Art Gallery of Memorial University. She now characterizes the style of those works as "impressionistic."
Since then, Mary's work has changed dramatically. Supper Table (1969), in which she first made use of a colour slide (taken by her husband), would become one of the most significant pictures of her career. The work is an example of her distinctive artistic style, photo-realism, and demonstrates her penchant for choosing subjects from her home environment. The photograph was essentially a permanent record, from which she could re-create the magical moment of vision. Mary's work was exhibited that year in a solo show at the Morrison Gallery in Saint John, New Brunswick.
In her work, Pratt painstakingly eliminated traces of brushstrokes through a complicated and time-consuming process. She used small sable brushes and painted tiny cross-hatched strokes with a medium of turpentine and stand oil. Tom Smart, curator of the Beaverbrook Art Gallery in Fredericton, describes this technique as suiting Mary's wish to make her paintings look styleless, like magazine reproductions or posters, while also permitting light to enter the surfaces of the paintings through the translucent layers of stand oil.
From September to December 1970, doubting the validity of using photographs, Pratt stopped painting and took up sewing. She was unaware that her style — using the camera as a tool and the slide as a record of light and subject matter — was consistent with that of many Canadian, American and European New Realist artists. Fortunately, she returned to painting in the new year and completed the well-known Eviscerated Chickens (1971).
Pratt has, at times, been unjustly called a painter of food, of the kitchen. Art historian Gerta Moray, has stressed that it is visual contemplation, rather than the active processes of food preparation, that Mary's creations emphasize. There are many different layers of meaning in her works, through their relationship to photography, to Northern European painting, to religious imagery, to advertising, and to femininity as it is constructed in our society.
In the 1970s, Pratt's career advanced. She had several solo shows and was part of major group exhibits across Canada and the eastern United States. In 1975, the exhibit "Some Canadian Women Artists," introduced Pratt's art to the nation. The exhibit was held by the National Gallery of Canada to celebrate International Women's Year. By the end of the year, Pratt's professional life was in full gear. Her personal life, however, was in disarray, exacerbated by the miscarriage of twins.
Mary Pratt has been described as a visual poet of femaleness, dealing not only with traditional female things like fruit, fish, flowers and affection, but also with the darker, more complex emotions of pain, lust, anger and jealousy. In 1978, she painted both The Service Station and Another Province of Canada. The subjects, the flesh of moose and fish, have been interpreted as fairly erotic and somewhat violent. In both works, Pratt intended the subjects to evoke images of "murder" and "rape," making a female statement about a male world. Some suggest these darker pictures, as works of social comment, may be amongst her most important works and the ones for which she will best be remembered.
In 1981, the London (Ontario) Regional Art Gallery organized a major retrospective exhibition of Pratt's work, which toured Canada. From the middle of the decade, she also had important bi-annual shows at the Mira Godard Gallery, in Toronto and at the Equinox Gallery, in Vancouver.
Through the 1970s, Mary Pratt's images were presented with a classical severity and economy. In the 1980s, she added elements of visual interest that have a greater complexity, as seen in paintings such as Blue Grapes and a Yellow Apple (1984), and Salmon Between Two Sinks (1987). Pratt's subjects ranged from still lifes to figurative work to landscapes to subtle gruesomeness. Tom Smart explains that Pratt examines the similarity between apparently divergent subjects and themes, by exploring the metaphor of a radiant muse incarnated as light. Pratt describes the thought process that provides the images for her art as follows: "I see something, I've got to have it, I've got to keep it, I've got to paint it. And then after I start to paint it, I realize why" (Laurence, p.26). "Women's stuff" is the phrase she has coined to define this female muse.
According to Gerta Moray, Mary Pratt's paintings of the female model are images answering neither to male desire, nor to some essence of womanhood. They are images of masquerade, as in such works as Girl in My Dressing Gown (1981), Girl in Red Turban (1981), Cold Cream (1983), and Donna (1986). The dimension of masquerade also appears in Pratt's 1986 exhibition, "Aspects of a Ceremony," which expresses themes of celebration and vulnerability. The images for this show resulted from the weddings of Pratt's own daughters in the same year. Mary expressed her ideas about commitment, while her own marriage was in jeopardy. The work is in stark contrast to Wedding Dress (1975), in which she emphasizes the virginal cleanliness of the hanging garment.
In a change of style, Pratt began to use mixed media — watercolour, pastel, charcoal — in a new series of much looser and larger-scale work than previously attempted. She was representing light itself, at the moment of its creation, as it consumes matter. This was shown in her 1989 exhibit "Mary Pratt: Flames," at the Mira Godard Gallery in Toronto. Her fire drawings were included in "The Tenth Dalhousie Drawing Exhibition," the following year.
Tom Smart describes Pratt's art in the mid-nineties as coming full circle. He sees her images of the cutting and preparation of fruit as subtle metaphors of domestic aggression and violation. In 1995, her work was featured in three major exhibitions: "Survivors in Search of a Voice: The Art of Courage" (group national touring exhibition) at the Royal Ontario Museum in Toronto; "Mary Pratt: The House Inside My Mother's House, New Paintings" at the Mira Godard Gallery in Toronto; and "The Art of Mary Pratt: The Substance of Light" (national touring exhibition) at The Beaverbrook Art Gallery in Fredericton. Her continuing interest in reinterpreting earlier subjects to reflect her different personal circumstances is apparent in such works as Breakfast Last Summer (1994), Dinner for One (1994), and My Parents' Bedroom (1995). With these shows, it was clear that Mary had come into her own artistically, no longer living in Christopher Pratt's shadow.
Mary Pratt continues to produce new work. Her most recent show opened April 27, 2002 at the Douglas Udell Gallery in Edmonton. Over an eight-year period, from 1994 to 2002, Mary also worked on a series of ten woodcut prints with master printer, Masato Arikushi, of Vancouver.
Dr. Pratt has been the recipient of many awards, notably:
The Woman's Recognition Award — Zonta Club in 1988
Ontario College of Art Fellowship Award in 1990
Canadian Conference of the Arts Commemorative Medal for the 125th Anniversary of Confederation, in 1993 — in recognition of contributions made to the life of the artistic community in Canada
Inducted to the Newfoundland and Labrador Arts Council Hall of Honor in 1994
Companion of the Order of Canada in 1997
The Maclean's Honor Roll in 1997
1997 Canada Council for the Arts Molson Prize in the Arts
Mary Pratt has also received honorary doctorates from eight Canadian universities and served on various arts, cultural, educational, hospital, fishing industry, law society, Canada Council and Canadian Broadcasting Corporation boards, committees and task forces.
Mary Pratt is one of Canada's most eminent and beloved artists, and possibly its most illustrious female painter. She is nationally recognized for her emotive realism, expressed in terms of light. Her collection of essays, speeches and candid personal journal entries in Mary Pratt: A Personal Calligraphy allow us to learn with her, and from her, while examining her selected paintings. She reveals her intimate thoughts about significant life changes — arthritic pain, a complicated dwelling-apart from her husband, moves from Salmonier to St. John's to Toronto and back — and how her painting has helped her to celebrate and survive it all.
Resources
Andreae, Janice. — "A personal calligraphy". — Canadian woman studies = Les cahiers de la femme. — Vol. 21, no. 2 (Summer/Fall 2001). — P. 148-149
Brayshaw, Christopher. — "Mary Pratt : vision to see". — Artichoke. — Vol. 7, no. 1 (Spring 1995). — P. 32-33
"Christopher and Mary Pratt". — Life & times [video recording]. — Directed, written and produced by Andrew Gregg in association with the Canadian Broadcasting Corporation. — Toronto : CBC, 1997. — 1 cassette, ca. 48 min., VHS - Col.
Hammock, Virgil. — "Pratt and Pratt". — Vie des arts. — Vol. 26, no 103 (Été 1981). — P. 78-79. — Also available in French, p. 45-48. — Translation by Marie-Sylvie Fortier-Rolland
Kubacki, Maria. — "Maria Kubacki in conversation with Mary Pratt". — Arts Atlantic. — Vol. 14, no. 2 (Winter 1996). — P. 26-33
Laurence, Robin. — "The radiant way". — Canadian art. — Vol. 11, no. 2 (Summer/June 1994). — P. 26-35
Lind, Jane. — Mary and Christopher Pratt. — Vancouver : Douglas & McIntyre, c1989. — 48 p. — (Canadian artists series)
Mary Pratt and John Reeves : the Johnny Wayne portrait. — St. John's, Newfoundland : Memorial University Art Gallery, c1990. — 18 p.
"Mary Pratt, Barbara Pratt Wangersky". — Pamela Wallin (show 129) [video recording]. — Executive producer, Jack Fleischmann ; producer, Wendy Bryan [et al.] — Toronto : Pamela Wallin Productions in association with Canadian Broadcasting Corporation and Newsworld, 1999. — 1 cassette, ca 36 min., VHS - Col. — [Mary Pratt and her daughter Barbara Wangersky are guests on the first segment of the show. The second segment is an interview with Linda Evans.]
Mary Pratt : June 19-August 16, 1981. — London : London Regional Art Gallery, 1981. — [24] p.
"Mary Pratt". — Newfound art [online]. — St. John's, Newfoundland : Newfound Art, c1995. — [Cited May 2, 2002]. — Access: www.nfld.com/nfld/clients/newfound/pratt.htm
"Mary Pratt wins the Canada Council for the Arts Molson Prize in the Arts". — The Canada Council press releases [online]. — Ottawa : The Canada Council for the Arts, 1998. — [Cited May 2, 2002]. — Also available in French. — Access: http://canadacouncil.ca/prizes/molson/nw127237760511562500.htm
Moray, Gerta ; Gwyn, Sandra. — Mary Pratt. — Toronto : McGraw-Hill Ryerson, 1989. — 186 p.
Murray, Joan. — "Joan Murray talking with Mary Pratt". — Arts Atlantic. — Vol. 2, no. 1 (Spring 1979). — P. 34-41
The other side of the picture [videorecording]. — Produced by Gillian Darling Kovanic, in association with the Canadian Broadcasting Corporation. — Montreal : National Film Board, c1999. — 1 cassette, 53 min., VHS - Col.
Pratt, Mary. — "Another time, another place, another me". — Globe and mail. — (August 19, 1998). — P. A12; A16
____. — A personal calligraphy. — Fredericton, N.B. : Goose Lane Editions ; Beaverbrook Art Gallery, c2000. — 143 p.
Smart, Tom. — The art of Mary Pratt : the substance of light. — [Fredericton, NB] : Goose Lane Editions, 1995. — 167 p. — [Published in conjunction with an exhibition]
Stevens, Caroline. — Working bodies : feminist alternatives to passive representations of feminine corporeality. — M.A. thesis. — Montreal : Concordia University, Art History Department, 1996. — 111 p.
Whiffen, Glen. — "Mary Pratt". — Telegram [St. John's, NF]. — (April 29, 2001). — P. 20
Wine, Cynthia. — Across the table : an indulgent look at food in Canada. — Scarborough, Ont. : Prentice-Hall Canada, 1985. — 211 p.
Yaffe, Barbara. — "An artful memoir : Mary Pratt's writing about herself is candid and exceptionally literate". — Vancouver sun. — (Jan. 27, 2001). — P. H24