Archived Content
This archived Web page remains online for reference, research or recordkeeping purposes. This page will not be altered or updated. Web pages that are archived on the Internet are not subject to the Government of Canada Web Standards. As per the Communications Policy of the Government of Canada, you can request alternate formats of this page on the Contact Us page.
Themes - Government
Nellie J. Cournoyea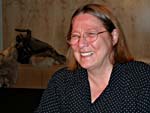 LL.D.
First Aboriginal woman government leader
Born in Aklavik, Northwest Territories on March 4, 1940
Nellie J. Cournoyea
Source
---
Legislative Career: Elected to the Northwest Territories legislature in 1979 as member for Western Arctic riding and in 1983 as member for Nunakput riding, served until 1995.
Appointed to the Cabinet as Minister of Information and Minister of Renewable Resources, January 12, 1984 to November 5, 1985; Minister of Energy, Mines and Resources, November 16, 1987 to December 16, 1993; Minister of Health, November 16, 1987 to November 14, 1991; Minister responsible for the Public Utilities Board, November 16, 1987 to April 3, 1989; Minister of Public Works and Highways, April 25, 1988 to November 14, 1991; Minister responsible for the Workers' Compensation Board, April 25, 1988 to June 1, 1989; Minister of Energy, Mines and Petroleum Resources, April 3, 1989 to December 16, 1993; Minister responsible for the N.W.T. Power Corporation, November 14, 1991 to October 16, 1995; Minister of Health, March 31, 1992 to July 9, 1992; Minister responsible for the Women's Directorate, July 9, 1992 to May 3, 1995; Minister of Health and Social Services, June 13, 1994 to October 16, 1995; Minister of Personnel, January 12, 1995 to May 3, 1995.
Elected as Premier of the Northwest Territories, November 14, 1991 to November 22, 1995.
Honours and Awards: Woman of the Year Award (NWT Native Women's Association) 1982; Wallace Goose Award (Inuvialuit Regional Corporation) 1986; National Aboriginal Achievement Award 1994; honorary Doctor of Laws degrees from Lakehead University (1995), Carleton University (1996), University of Toronto (1996), University of Lethbridge (2001), University of Alberta (2004); Energy Person of the Year (Energy Council of Canada) 2004
---
Raised by her trapper father, an immigrant from Norway, Nellie J. Cournoyea chose to get an education through the Federal Aklavik Day School by Alberta correspondence courses. Her mother was an Inupiak from Herschel Island.
Cournoyea married a Canadian Forces officer based in Inuvik and accompanied him to postings in Halifax and Ottawa. Shortly after returning to the North in the early 1960s, they divorced. Cournoyea has not remarried. While raising her children, John and Maureen, Cournoyea began her career by working for CBC radio at Inuvik as an announcer and station manager. She has also been involved in a land claim for the Inuit Tapiriit Kanatami (ITK).
In 1969, Cournoyea co-founded the Committee of Original Peoples' Entitlement (COPE) to pursue a comprehensive land claim settlement between the federal government and the Inuvialuit people of the Western Arctic. She and COPE played active roles in negotiating the final settlement of the Inuvialuit land claim in 1984. A year later, the Inuvialuit Regional Corporation (IRC) was established to receive the Inuvialuit lands and financial compensation resulting from 1984 land claim settlement. Cournoyea has been the Chair and Chief Executive Officer of the IRC since 1996.
In addition, she served as an implementation coordinator for the Inuvialuit Final Agreement (IFA) for many years and has been on the Board of Directors of Inuvialuit Petroleum Corporation, Inuvialuit Development Corporation, and the Enrollment Authority and Arbitration Board.
Cournoyea is also a founding chair of the Aboriginal Pipeline Working Group. The organization successfully negotiated a complex agreement that provides the foundation for meaningful aboriginal equity participation in the proposed Mackenzie Valley Pipeline. She also participates in a wide range of volunteer activities; she served as a director of the Ingamo Hall Friendship Centre in Inuvik and a founding member of the Northern Games Society.
Nellie J. Cournoyea has been a tireless land rights activist and a strong-willed dedicated politician for the good of Canadian people in the North.
Resources
Bell, Jim. "Perestroika, N.W.T. Style: Can Nellie Cournoyea Breathe New Life into Northern Canadian Government?" Arctic Circle. Vol. 2, no. 5 (March/April 1992), p. 8-9.
Bergman, Brian. "Guarding Her Territory: Cournoyea Enters the Constitutional Fray." Maclean's. Vol. 105, no. 32 (August 10, 1992), p. 15-16.
Better Ask Nellie: The Life and Times of Nellie Cournoyea [video recording]. Producer, Sharon Bartlett and Maria Lerose. Vancouver: Force Four Entertainment, ©2004.
Dickie, Bonnie. "Just Call Her Nellie: Our Top Politician's Down to Earth Style Goes Clear Through to Bedrock." Up Here. Vol. 8, no. 3 (June/July 1992), p. 26-29, 39-40.
"Grade 5 Social Studies." Social Studies: A Curriculum Guide for the Elementary Level. Saskatchewan Learning, June 1995. "Profile: Nellie Cournoyea" was originally published in Native Woman Inc. Vol. 1, no. 1, (September 1992).
www.sasked.gov.sk.ca/docs/elemsoc/g5u41ess.html
(accessed September 10, 2004).
Howes, Carol. "Inuvialuit Hunger for Recognition." National Post. (December 9, 2000), p. D5.
Howse, John. "The New North: Native Activists Become Their Own Masters." Maclean's. Vol. 102, no. 18 (May 1, 1989), p. 55.
Inuvialuit Regional Corporation. Nellie Cournoyea Bio-2004.
www.irc.inuvialuit.com/inuvialuit/irc-website.nsf/0/76D48C61211C14D
787256EC30057602F/$File/Nellie%20Cournoyea%20
Bio%202004.pdf?OpenElement
(accessed August 5, 2005).
Langford, Cooper. "Native Woman Government Leader in N.W.T." Wind Speaker. (November 22, 1991), p. 3.
"Nellie Cournoyea: A Northern Light." First Nations Free Press. Vol. 10, no. 5 (May 2003), p. 31.
Nemeth, Mary. "A Great Country: A Veteran Northern Politician Takes Her Leave." Maclean's. Vol. 108, no. 42 (October 16, 1995), p. 34.
Richer, Shawna, et al. "50 Nation Builders." The Globe and Mail. (June 1, 2002), p. F1, F4-F5.
Sanger, Clyde. "No-Nonsense Nellie: The Woman Who Runs the Northwest Territories." New Internationalist. No. 230 (April 1992)
www.newint.org/issue230/update.htm
(accessed August 5, 2005).
Struzik, Ed. "Changing Courses: A Veteran Northern Traveller Paddles into the Heart of the Northwest Territories, and Discovers that Old Lifestyles Are Being Reshaped by New Economic Realities." Canadian Geographic. Vol. 122, no. 5 (September/October 2002), p. 40-62.