Archived Content
This archived Web page remains online for reference, research or recordkeeping purposes. This page will not be altered or updated. Web pages that are archived on the Internet are not subject to the Government of Canada Web Standards. As per the Communications Policy of the Government of Canada, you can request alternate formats of this page on the Contact Us page.
Themes
Judith Marcuse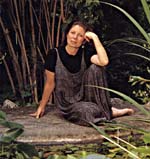 (1947- )
Artistic Producer, Choreographer, Dancer, Teacher
Judith Marcuse
Source
---
"...My wish is that we all make art part of our efforts to create a better, more compassionate world." 1
Artistic excellence combined with social relevance has been the hallmark of Judith Marcuse's career as one of Canada's most creative and innovative choreographers. Marcuse, founder and artistic producer of DanceArts Vancouver, was introduced to dance and choreography as well as activism at an early age. Marcuse began dance instruction as a child with her aunt Elsie Salomon, a pioneer of contemporary dance in Montréal. Marcuse remembers that "fully a third of those classes consisted of making up dances." (Preston, p. 27) Her social engagement follows in the footsteps of her parents, who exposed her to activism as a child by taking her along to protest marches.
Marcuse received classical ballet training first in Montréal and then was accepted into the prestigious Royal Ballet School in London at the age of fifteen. She went on to perform with many renowned classical and contemporary dance companies around the world: Les Grands Ballets Canadiens, the Royal Ballet in London, the Ballet de Genève, the Bat-Dor Dance Company of Israel, California's Oakland Ballet Company and the British Ballet Rambert.
Marcuse, when describing her early experiences as a choreographer, said: "I had so much material to release, it came flying out of me." (Simand, p. E11) Beginning with her early works such as baby (1975) that has been described as a femininst piece and Four Working Songs (1976) about women's relationship to work, Marcuse established herself as an adventurous choreographer who relates dance to the real world. Marcuse was quickly recognized as one of Canada's emerging choreographers, winning Canada's two main choreographic awards: the Chalmers Award in 1976 and the Clifford E. Lee Award in 1979. During this period, Marcuse also began teaching dance.
In 1980, Marcuse founded the Judith Marcuse Dance Projects Society in Vancouver and in 1984 established the Judith Marcuse Repertory Dance Company. This company staged the works of many innovative Canadian and foreign choreographers and toured extensively, giving performances and workshops in both large and small communities. Her work during these years has been variously described as contemporary ballet or modern dance rooted in ballet technique. Marcuse also worked with opera and theatre companies and created several award-winning dance films.
In the mid 1990's Judith Marcuse's company became DanceArts Vancouver — a name reflective of Marcuse's belief in the importance of collaboration in the arts. Marcuse says of DanceArts Vancouver, "We see ourselves as committed to playing a relevant role in the community and that we seek collaboration with other artists to create a vibrant presence for the arts, combining excellence in creation with relevance to society... We believe that relevant, excellent art practices can be transformative tools, creating positive social change." 2
In 1995 DanceArts inaugurated the KISS Project, an annual multi-arts project in Vancouver designed to bring together creators and performers from usually separate disciplines. Described as an outreach and arts education festival, the KISS Project supported the creation and production of works by playwrights and choreographers; each work was to be five minutes long and contain one kiss. Marcuse said of the festival, "We tried to bring people together who might not know of one another's existence...That's why the metaphor of the kiss. Making contact." (Preston, p. 30)
The most stunning accomplishments of DanceArts Vancouver have been their collaborative works with youth: ICE: beyond cool and FIRE: where there's smoke. In the creation of these works, Marcuse worked with other arts professionals conducting extensive workshops with teens. Based on the depth of emotion and issues shared by the youth, Marcuse and her colleagues created works that gave a powerful voice to the unheard and unspoken anguish of adolescents. ICE: beyond cool explores the issue of teen suicide and FIRE: where there's smoke reflects how teenagers think and feel about violence in their lives and in our society. ICE toured nationally in 2000 and a film version has been produced by CBC. A cross-country tour of FIRE is planned for the fall of 2003.
The powerful responses that these productions evoke from audiences confirm that Marcuse has succeeded in creating the kind of art that she aspires to: art that is a social force and is a catalyst to social change. In recognition of her commitment to the marriage of artistic excellence and social relevance and her contributions to Canadian dance and theatre, Judith Marcuse received an honorary doctorate from Vancouver's Simon Fraser University in 2000.
1. Marcuse, Judith. — Convocation address, Simon Fraser University, 7 June 2000, presented by Judith R. Marcuse, Doctor of Laws (honoris causa) [online]. — [Cited March 28, 2006]. — Access : www.judithmarcuseprojects.ca/judith2.htm
2. DanceArts Vancouver. — About DanceArts Vancouver : excellence in creation, relevance to society [online]. — [Cited March 28, 2006]. — Access : www.judithmarcuseprojects.ca/about.htm
Resources
Chodan, Linda. — "Judith Marcuse's new dance company a family affair". — Gazette (Montreal). — (November 10, 1984). — P. C1
Dafoe, Chris. — "Cry for help : the dancers who double as lifesavers". — The globe and mail. — (April 26, 2000). — P. R4
DanceArts Vancouver [online]. — [Cited March 28, 2006]. — Access : www.jmprojects.ca
Marcuse, Judith. — "Stepping out from teenaged angst". — The Vancouver sun. — (December 7, 1999). — P. A11
Pepper, Kaija. — "Life in art : Judith Marcuse brings the real world into her powerful choreography". — Dance international. — (Spring 2003). — P. 6-11
Preston, Brian. — "Dancing for joy". — Imperial Oil review. — (Fall 1995). — P. 26-30. — Also published in French under the title: La revue de l'Impériale
Simand, Anita. — "10 years after : Judith Marcuse celebrates anniversary of winning Chalmers Award in Montreal". — Gazette (Montreal). — (October 16, 1985). — P. E11
Zimmer, Elizabeth. — "[Chalmers Winners] 1976 - Judith Marcuse". — Dance in Canada = Danse au Canada. — (Winter = Hiver 1977). — P. 24-25