Archived Content
This archived Web page remains online for reference, research or recordkeeping purposes. This page will not be altered or updated. Web pages that are archived on the Internet are not subject to the Government of Canada Web Standards. As per the Communications Policy of the Government of Canada, you can request alternate formats of this page on the Contact Us page.
Themes
Andrea Menard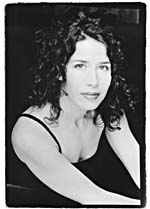 (1971- )
Singer, Actor, Author
Andrea Menard
Source
---
Andrea Menard was born in Flin Flon, Manitoba in 1971. She studied dramatic arts pedagogy at the University of Saskatchewan, where she began her career as a jazz singer with the group H'rattitude. During her last year of university, she decided to move towards a career as a professional actor. She obtained her first professional role at the 25th Street Theatre in Saskatoon in Sacred Places, a play by Joe Walsh. In recent years, she has performed in the theatre, film, television and radio, thus combining the various means of expression of her art.
She gained public recognition following her role in The Velvet Devil, a play for which she helped write the script and compose the music, along with Robert Walsh. In it, she interpreted the role of a Métis woman from Batoche, Saskatchewan, who leaves her province to become a singer in Toronto and becomes famous. After an absence of twelve years, she returns to her community for her mother's death and attempts to reconcile herself with her past and with the woman she has become.
Andrea Menard has recorded a DVD of eighteen blues and jazz songs from her show. Her career is off to a good start and she will be offering us quality performances for a long time. Perhaps one day we'll see her realize her dream — to play Martha in Who's Afraid of Virgina Wolf?.
Resources
Beaucage, Marjorie. — "Andrea Menard : a profile, I create a world and live in it" [online]. — [Cited August 5, 2003]. — Access : www.sicc.sk.ca/faces/wmenaan.htm
Mazey, Steven. — "'I like to tell stories,' says creator of The Velvet Devil". — The Ottawa citizen [online]. — September 24, 2002. — [Cited August 5, 2003]. — Access : www.globetheatrelive.com/20022003season/naccitizenpreview.htm
Menard, Andrea. — Media kit [online]. — [Cited August 5, 2003]. — Access : www.andreamenard.com/andrea_menard.htm
Saskatchewan Sage. — Top news [online]. — October 14, 2002. — [Cited August 5, 2003]. — Access : www.ammsa.com/sage/topnews-Oct-2002.html#anchor15308393