Archived Content
This archived Web page remains online for reference, research or recordkeeping purposes. This page will not be altered or updated. Web pages that are archived on the Internet are not subject to the Government of Canada Web Standards. As per the Communications Policy of the Government of Canada, you can request alternate formats of this page on the Contact Us page.
Glenn Gould
Childhood and Education
Part 1 of 4
Gould came from an average Toronto middle-class social background. His father and grandfather were in the fur business and both parents were amateur musicians. Noteworthy in Gould's family tree is the fact that his great-great-great-grandparents on his mother's side were also the grandparents of Edvard Grieg, the Norwegian composer.
Glenn Gould at seven months, 1933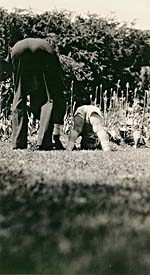 Glenn Gould with his grandfather, outside, ca 1935
Glenn Gould with his grandmother, on porch, ca 1939
---
Glenn Gould's senior progress report, grade 5, Williamson Road Public School, 1941-42
---
Tune written by Glenn Gould at the age of eight, for school music test, June 1941
Kennedy's First Grade Piano Book, by Margery M. and Peter C. Kennedy. New York: Flammer, 1935 Annotated
---
The Toronto (now Royal) Conservatory of Music, founded in 1886, was for many decades the centre of music education in anglophone Canada. From 1943 to 1952 Gould studied piano with Alberto Guerrero (1886-1959), a Chilean musician, whose pupils also included William Aide, John Beckwith, Pierrette LePage, Arthur Ozolins, R. Murray Schafer and Malcolm Troup. He also studied the organ with Frederick C. Silvester and music theory with Leo Smith. In all examinations he obtained excellent marks and examiners such as the eminent Healey Willan predicted a brilliant future for him.
Toronto Conservatory of Music: Grade II Pianoforte Examination. Oakville, Ont.: Frederick Harris, n.d.